'The energy transition' is vital to combat climate change and is widely regarded as one of the biggest challenges of this century.
Global Warming and Climate Change
According to NASA, the planet's average temperature was 1.02 degrees Celsius warmer in 2020 than the baseline 1950-1980 mean average. This global warming is causing sea levels to rise and the polar ice caps to melt. It's also responsible for other climate changes such as desertification and an increase in extreme weather events like floods, fires, and hurricanes.
An international agreement was signed in December 2015 at the COP21 summit in Paris, with the aim of limiting global warming by the end of this century to below two degrees Celsius compared with pre-industrial levels. At the COP26 summit held in 2021 in Glasgow, the commitment to achieve carbon neutrality by 2050 was confirmed.
Experienced senior business leaders in the energy sector – such as Marcel Kooter, who is a strong advocate for moving from fossil fuels to renewable sources – know that energy transition is one of the most powerful tools in the world's arsenal when it comes to meeting the COP targets.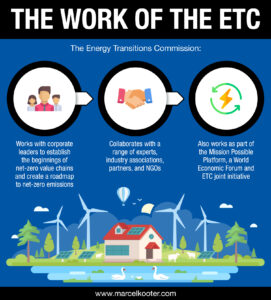 The Benefits of Energy TransitionAs well as benefiting the climate, energy transition can also deliver significant advantages for the economy and wider society. For example, digitalizing energy grids and the subsequent development of smart grids is likely to lead to new services for consumers. It's expected that many new jobs will be created through the switch to renewable energy, which will absorb those who previously worked in the thermoelectric sector so that no one is left behind.
The Energy Transition Commission
The Energy Transitions Commission (ETC) released a report in November 2022 that assessed progress since COP26 and detailed the priority areas where accelerated action is needed at and beyond COP27.
In the report, the ETC concluded that, despite positive progress at COP26, the current pledges and commitments made by the countries involved are not enough to ensure that global warming will be limited to an increase of 1.5 degrees Celsius, even if fully implemented. The report advises that COP27 needs to act as a catalyst to drive more forceful measures to phase out the use of coal and end deforestation if the world is to have even a 50% chance of meeting its climate objectives.
Take a look at the embedded PDF for more information about the Energy Transitions Commission's November 2022 report.