The global oil and gas industry currently accounts for around 15% of the total indirect greenhouse gas emissions of the energy sector. There is therefore a lot of pressure on the industry to contribute to global sustainability goals.
The 17 Sustainable Development Goals as adopted by the United Nations in September 2015 detail the steps that must be taken to improve sustainability across all of the key areas of human life. These include the environment, poverty, energy, health, education, climate, inequality and prosperity.
These SDGs are a cross-industry initiative, with the participation and cooperation of every global industry required if they are to be met. Energy is linked to many of the SDGs and is therefore a central player in terms of reaching these goals, particularly SDG 7. The PDF attachment outlines SDG 7, which focuses on improving access to energy for everyone.
Marcel Kooter is a leading businessman in the oil and gas industry who is passionate about meeting sustainability objectives and seeking solutions that meet global energy demand in the most sustainable way.
Meeting Growing Energy Demand
While use of renewables and other sustainability solutions are slowly edging the global energy industry towards meeting sustainability goals, key challenges are presented in terms of increased demand for energy.
Supply and demand outlooks created by collaborations of research and consulting groups, major oil and gas companies, and energy agencies have created a series of models based on increasing demand and the changing energy supply mix between now and 2040.
These outlooks show that oil and gas will remain a high-volume part of the energy mix if demand is to be met. However, these outlooks do not account for the SDG's multiple requirements for meeting sustainability targets.
Global Access to Electricity
Globally, access to electricity is expanding and improving steadily. The percentage of people who had access to electricity grew from 83% in 2010 to 89% in 2017, indicating a rise of approximately 1% each year. However, this still leaves an estimated 840 million people lacking access to electricity.
More than half of these people are in sub-Saharan Africa, where less than half of the total population has access to electricity. Some more statistics about global access to energy can be seen in the embedded infographic.
Progress has been swift in the electrification of rural areas, but there is still a huge gap between urban and rural areas. As of 2017, 87% of those that did not have access to electricity lived in rural areas. Therefore, one of the key objectives to meet SDG 7 is to improve access to electricity for remote areas.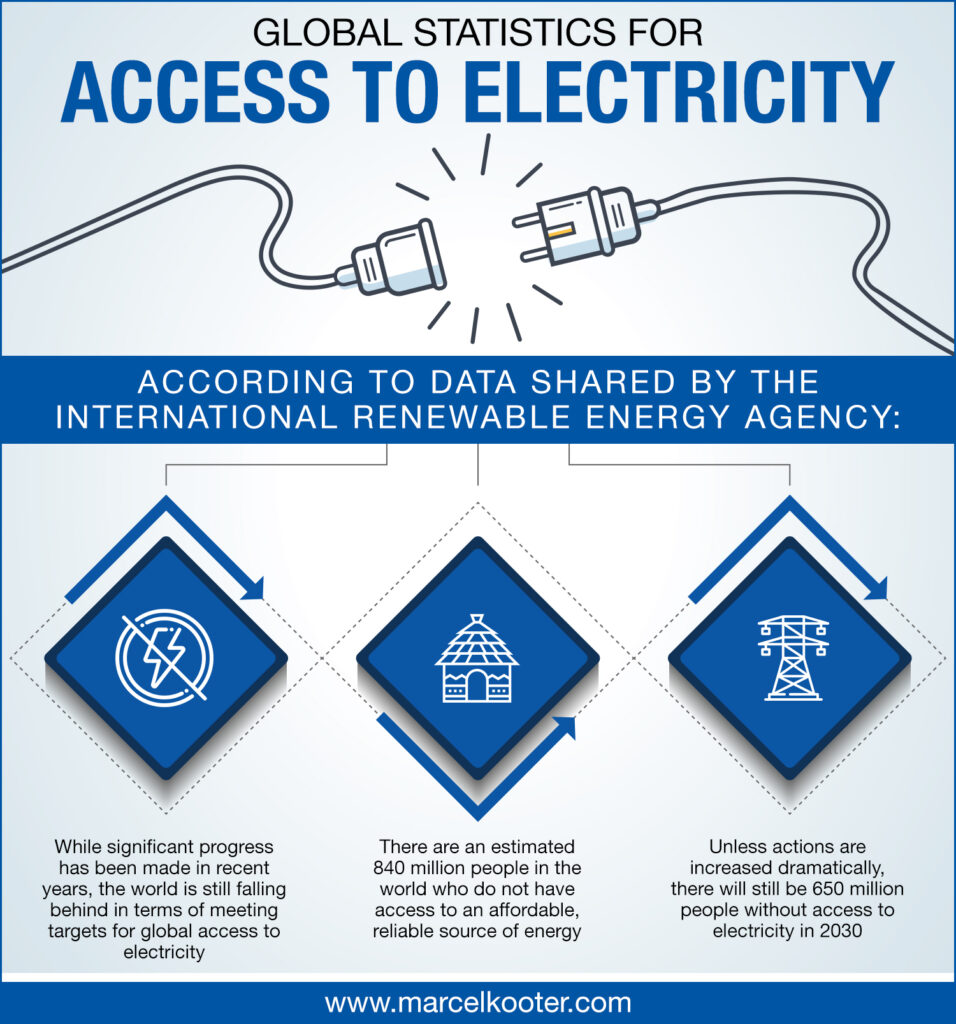 The Oil and Gas Industry
Oil companies, including Shell and Total S.A., have partnered with the International Gas Union (IGU), the World Petroleum Council (WPC) and the OPEC Fund for International Development (OFID) to support achievement of SDG7 on the Oil and Gas Industry Energy Access Platform (EAP). The EAP is intended to leverage the technology, experience and knowledge of its members to provide a collaborative platform that facilitates long-term energy policy, increased deployment of renewables, energy access solutions, and improved energy efficiency.
For example, in 2011 Total S.A. launched the 'Total Access to Energy' programme. This project incubator is designed to make energy accessible to everyone, especially disadvantaged people living in developing countries. The first major achievement of the programme was the distribution of solar solutions under the 'Awango by Total' brand.
Since 2011, 1.9 million solar lamps have been distributed in 40 countries, and the goal now is to positively impact the lives of 25 million people living in Africa by the end of 2020. These solar solutions are a cheaper and cleaner source of power than batteries or kerosene and can also be used to charge mobile phones and other small devices.
Improving opportunities to work and read after sundown by providing a source of lighting helps to bring people out of poverty. By using its service station network (solar lamps were made available at over 3,000 service stations in 2016), Total S.A. is creating numerous partnerships to access hard-to-penetrate distribution networks.